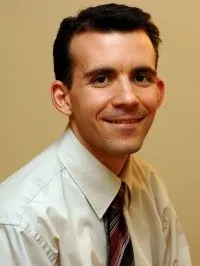 Dr. Miguel Arbez received his Bachelor of Science from the University of Manitoba in 1995. In 1998 he graduated Summa Cum Laude with a Doctor of Chiropractic degree from Atlanta, Georgia. Soon after graduation Dr. Arbez held the position of clinic director for a personal injury clinic in Dallas, Texas.
Dr. Arbez is a member of the Canadian Chiropractic Association and the British Columbia Chiropractic Association. He also teaches Backsafe and Sittingsafe courses for various companies as an injury prevention consultant.
In 2005 Dr. Arbez and his wife Kathryn moved from Winnipeg, Manitoba to escape the frigid winters. Outdoor activities such as fishing, camping, tennis and hiking are all things Dr. Arbez enjoys in his free time. Most of all though he enjoys spending time with his three children. He is currently in private practice in Nanaimo, British Columbia.