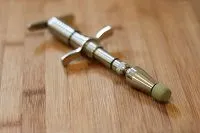 The
Activator Method
is one of the most researched Chiropractic techniques. It assists you to get your spine healthy so nerves, joints and muscles can release stored energy and tension and become more at ease.
The Activator is a spring loaded hand held instrument that provides a controlled, fast thrust. It can be used for adjusting the spine and extremities such as shoulders, wrists and ankles.
Activator Methods is the world's most widely used Chiropractic adjusting instrument. It has been published in many research papers and has been studied comprehensively. The Activator instrument is held between the practitioner's middle and index fingers and placed over the spinal segment until there is slight resistance from the tissue. A quick controlled adjustment occurs. Unlike a hands on spinal adjustment there is no cavitation or popping sound. There are different Activator instruments available, all instruments can be adjusted to modify the amount of force. Activator is a good option for patients who are nervous about manipulation adjustments. At Rosstown Chiropractic we are pleased to offer the Activator as part of our treatment to adults and children.